The third book in the Angelbound Lincoln series, TRICKSTER, is here… and an amazing group of kick-ass reviewers who are doing their TRICKSTER thing from March 2-7, 2020.
Take a look at the list below; you may discover your next favorite book blog!

March 2nd
–Book Explorer 
–diary of a wannabe writer
–ACME Teen Books – Kids, YA & NA Too! 
March 3rd
–Rockin' Book Reviews
–Smada's Book Smack 
March 4th
–The Book Junkie Reads . . . 
–breen.rb
March 5th
–Betwixt The Sheets
–Deliciously Savvy
March 6th
–Lala's Book Reviews
–The bouncing tigger reads
March 7th
–El rincón de Becks
–The Avid Reader
–Incidental Inspiration
Trickster (Angelbound Lincoln Book 3)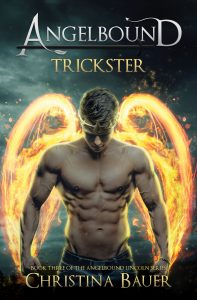 SEE IT ON: Amazon / GooglePlay / Apple Books / Kobo / Barnes & Noble / Goodreads
Aldred, the dreaded Earl of Acca, is at it again. After discovering a new kind of fighting arbor, Aldred rips open a gateway to another world called the Primeval. The earl's goal? Release the arbor, lock in an easy kill, and show off some supposed prowess as a slayer of unusual big bads.
After all, how hard can it be to kill a freaking tree? Super hard, as it turns out.
The earl unleashes none other than the Contagion, an uber-evil wizard in tree form. What happens next is nothing less than a disaster. The Contagion races through the portal, steals the life force of local children, and then escapes back into the Primeval. No one wants to chase after the cruel wizard, even if destroying the Contagion means healing the injured innocents.
Cue our hero, Lincoln, and his fiancée, Myla.
While everyone else runs away, Myla and Lincoln break into the Primeval with a single goal: hunt down the Contagion. Unfortunately, the couple's only guide to the strange realm is Peli, a trickster monkey who may be in the Contagion's service. And that isn't the only possible treachery that Myla and Lincoln face, either. Powerful forces could be deceiving our favorite couple about the very nature of who they are and what they want.
Talk about tricksy.
BONUS: Read sample chapters now!
"Lincoln's hot, powerful, and so damn sweet" – Four Eyed Cat
"Love Lincoln's POV" – The Book Junkie Reads
"An amazing book boyfriend!" – Belle, Goodreads
ANGELBOUND LINCOLN
Stories from the perspective of Mister The Prince
1. Duty Bound
2. Lincoln
3. Trickster
4. Baculum
Author's Note To Readers: This book takes place between Angelbound Origins Book 2 SCALA and Book 3 ACCA.
Author's Note to Self: Why do I write things out of sequence? Wasn't SCALA published a while ago? To which I say to myself: self, this is how our gift works. Just be happy it does. And go eat more cookies. We like those.