Check it out–I'm changing the description for DARE!
With this new version, I'm bringing the DARE description more in line with the rest of the series. In other words, it's now written in Calla's voice and serves up an extra dose of sass. As a bonus, it's a blast starting anything off with "beware!"
DARE is now live on Nook, Amazon, GooglePlay, Apple & Kobo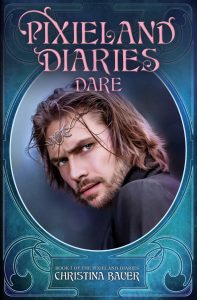 ***BEWARE***
If you don't like pixies, then don't read this diary.
And if you don't like feisty pixies who become queen while cherishing their so-called attitude problems? Definitely turn away right now.
I'm a pixie who rules as Queen of the Summer Fae and yet, I'm also the proud owner of a very cheeky personality. What can I say? It works for me. Or it does until an evil sorcerer plans to destroy all of Faerie. The Usurper.
To defeat this deadly mage, I team up with my elf crush, Dare. He's a Prince of the Winter Realm and just awesome in general. Together, we face this threat like two pointy-eared bosses. Sure, it's a dangerous quest, but things get way worse when the unthinkable happens…
Dare is kidnapped.
Will I give up? Hell, no. But I will crash an ice polo pony tournament in a bikini. Then I'll kick some sparkly fairy butt and save the day.
Because that's how we saucy pixie queens get stuff done.
***A 40,000-word diary written by Calla***
Pixieland Diaries Series
1. Pixieland Diaries
2. Calla
3. Dare
4. Winter Prince
5. Ley Queen
Named a "TOP INDIE FAVORITE" on Barnes & Noble!
BUY NOW: Nook / Amazon / GooglePlay / Apple / Kobo