I'm a competitive little shit, so I truly enjoy it when I can see the words number one next to one of my titles. With that in mind, I shall now celebrate the launch of my latest book, BACULUM, because the novel is now numero uno on Amazon for children's Norse fantasy!
:::happy dance:::
The book is all about our favorite hero, Lincoln, as he fights Norse monsters in the Viking Games! There's also a lot about expecting a child and how that effects your life and heart, especially when you worry about NOT making the same mistakes as your own parents. Scroll down for more about BACULUM!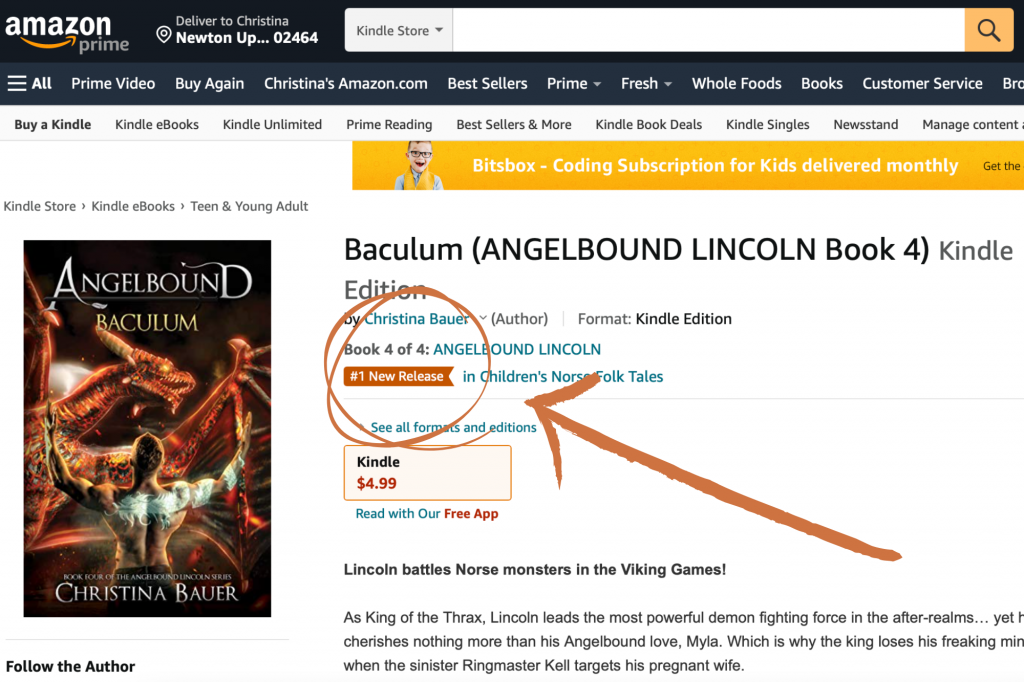 About BACULUM
SEE IT ON: GooglePlay / Amazon / AppleBooks / Kobo / Nook
Watch Lincoln battle Norse monsters in the Viking Games!
As King of the Thrax, Lincoln leads the most powerful demon fighting force in the after-realms… yet he cherishes nothing more than his Angelbound love, Myla. Which is why the king loses his freaking mind when the sinister Ringmaster Kell targets his pregnant wife.
So. Not. Happening.
Ringmaster Kell runs the infamous Viking Games, a series of battles where participants take on the identity of a Norse monster and fight to the death. Sounds good to Lincoln. The king sets aside his crown and enters the arena with one goal only: destroy Ringmaster Kell.
Sometimes, a warrior just needs to ignite his baculum sword and kick a ton of evil ass. But is Lincoln protecting Myla or walking into a trap?
Perfect for readers who love Vikings, Norse mythology, hot princes and cool heroines.
ANGELBOUND LINCOLN
Stories from the perspective of Mister The Prince
1. Duty Bound
2. Lincoln
3. Trickster
4. Baculum
5. Angelfire
6. Rixa
Author's Note To Readers: This book takes place between Angelbound Origins Book 2 SCALA and Book 3 ACCA.
Author's Note to Self: Why do I write things out of sequence? Wasn't SCALA published a while ago? To which I say to myself: self, this is how our gift works. Just be happy it does. And go eat more cookies. We like those.